Term Sheet Agreement
---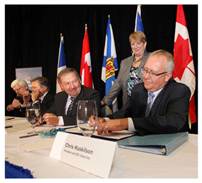 On November 18, 2010, Emera and Nalcor Energy, with the endorsement of the governments of Nova Scotia and Newfoundland and Labrador, signed a Term Sheet agreement, under which Emera agreed to design, engineer, construct, operate and maintain the 500 MW Maritime Link Project.
Phase I Lower Churchill Project Agreements
---
On July 31, 2012, Emera Inc. and Nalcor Energy, along with the governments of Nova Scotia and Newfoundland and Labrador completed and signed formal agreements for the development and transmission of hydroelectric power from Muskrat Falls. These agreements reflect the core principles established in the Term Sheet announced in November 2010.
The agreements were signed in St. John's by Chris Huskilson, former President and CEO, Emera Inc., Ed Martin, former President and CEO, Nalcor Energy, Jerome Kennedy, former Minister of Natural Resources, Newfoundland and Labrador, and Charlie Parker, former Minister of Energy, Nova Scotia.
Sanction Agreement
---
On December 17, 2012, the Maritime Link received official sanction. This energy transmission project will link the provinces of Newfoundland and Labrador and Nova Scotia for the first time. When completed, the Maritime Link will supply stable priced, reliable and renewable energy to Nova Scotians. Click here to read the Sanction Agreement between Nalcor and Emera.

For information Nalcor Energy and the Muskrat Falls development, please visit their website.